How good is Virat Kohlis record as Test captain? Heres what the numbers reveal
---
How well does Virat Kohli stack up against previous Test captains of the Indian team? Who's got the best record in Test matches abroad?
Ravi Shastri, the Indian team's coach, has said the current team is the best Indian team in the last 15-20 years. Asked about it after a 4-1 drubbing in the Test series in England, Indian captain Virat Kohli stood by it. But how true is that assessment?
We looked at data for the Test captains in the last 15 years. We looked at the numbers from Sourav Ganguly to Virat Kohli and this is their record. You can also compare Kohli with all captains since Mansoor Ali Khan Pataudi, the first to lead India to a Test victory abroad: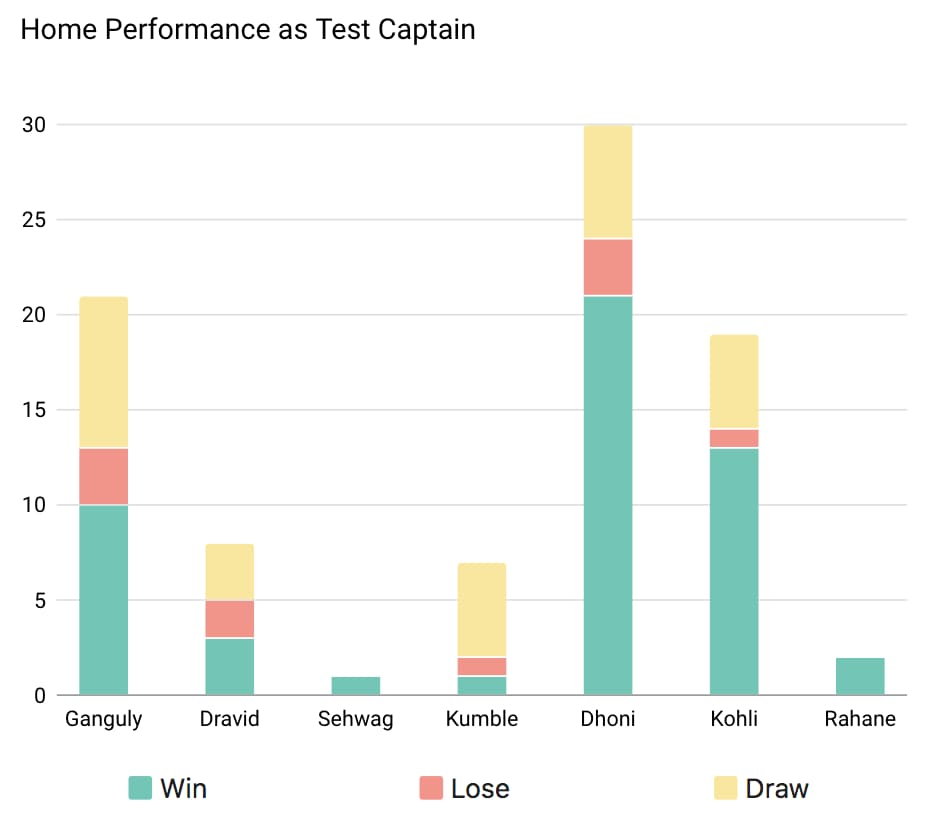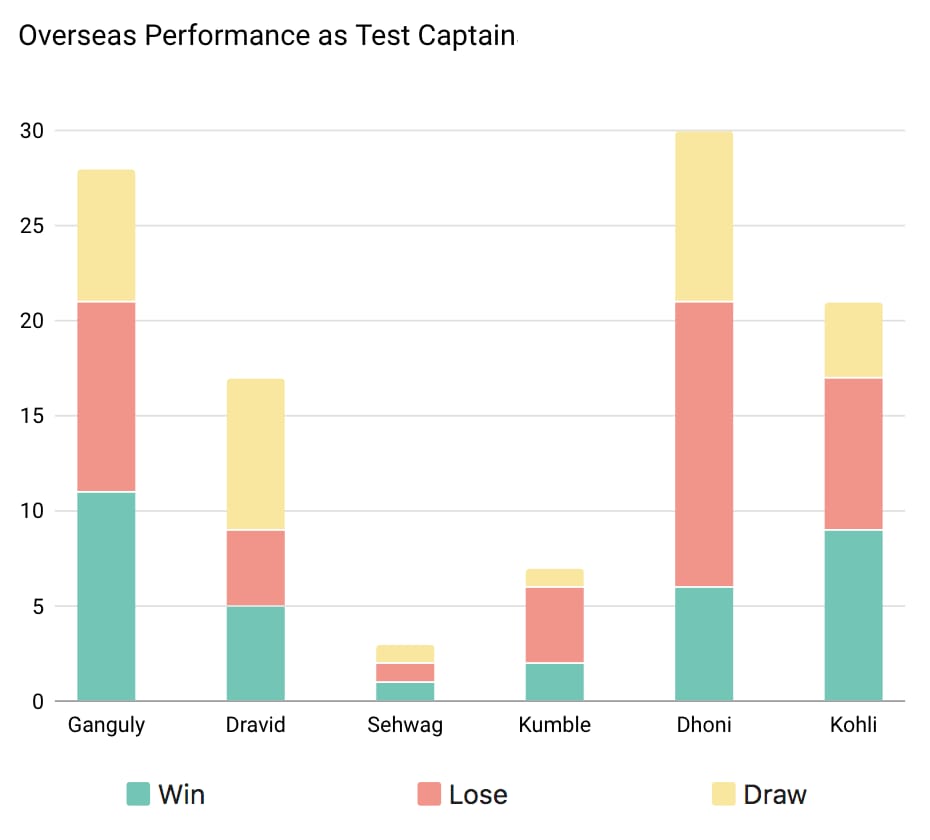 Second-most successful Indian Test captain ever
With one victory in England, Kohli became the second-most successful Indian Test captain of all time. After 22 victories, he now only trails MS Dhoni who had 27 victories as captain. Kohli has now led India in 40 matches, in which he has lost 9 and drawn 9 for a win percentage of 55 – under MS Dhoni it stood at 45 per cent.
In terms of matches played as captain, Dhoni again leads the pack followed by Sourav Ganguly (49), Mohammad Azharuddin and Sunil Gavaskar (47 Tests). Kohli has now equalled Mansoor Ali Khan Pataudi's record of leading India in 40 Test matches.
Taking over after Dhoni announced his retirement mid-way during the 2014 Australia tour, Kohli led India to a streak of victories at home that ended only three years later. But the record abroad remains largely dismal.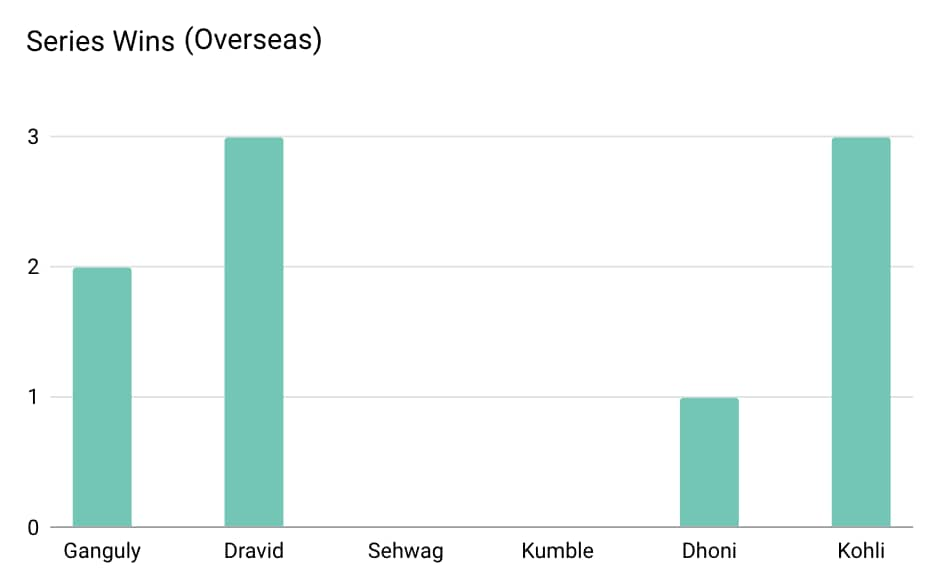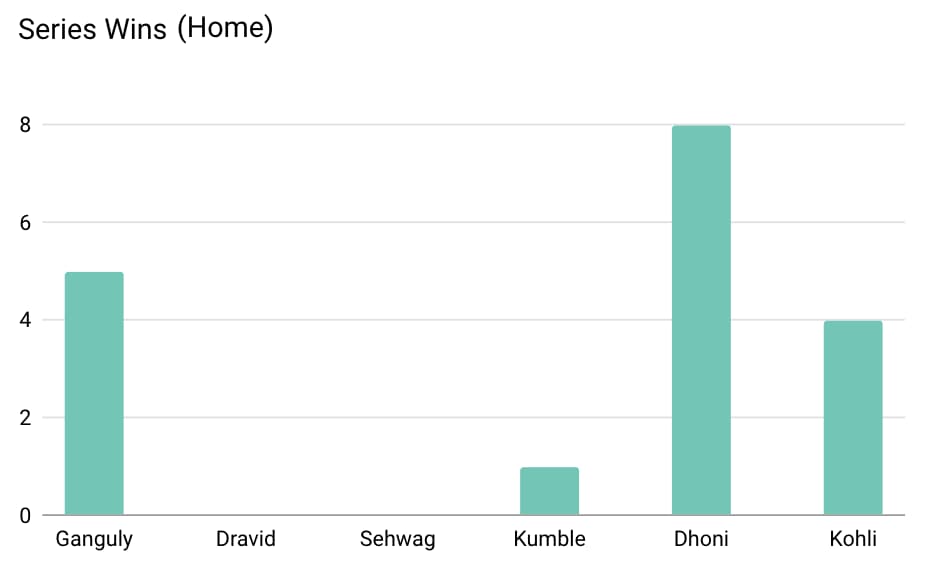 India's eternal challenge: winning away
Since Mansoor Ali Khan Pataudi led India to its first series win abroad, against New Zealand in 1968, India has played 229 Tests and won just 47 of them. India lose 40.17 per cent of the matches they play overseas and drew in 39.30 per cent of them.
Kohli's record in that respect stands out. He's won nine Test matches overseas (42.86 per cent), lost eight times and had four draws. But seven of those nine victories have come in the sub-continent where the conditions are much like those at home. He's had one Test victory each in South Africa and England in 2018.
Kohli is now ahead of Ganguly, who led India to victory in 11 out of 28 Test matches, a victory percentage of 39.29 per cent. Ganguly notched up most of his victories against smaller teams like Bangladesh and Zimbabwe. But he also won one Test each against England, Australia and Pakistan.
For Kohli, the next milestone is beating Dhoni's 27 victories in Test matches. Under Dhoni, India won just six matches outside India with 15 losses and nine draws. Despite his remarkable record in limited overs cricket, Dhoni suffered clean sweeps in Test series at England and Australia. He retired at a time when Indian cricket saw four consecutive away series lost in South Africa, New Zealand, England and Australia.

India's saving grace: Matches at home
A home series has often been a saving grace for multiple captains. MS Dhoni is a perfect example. Barring the 2012/13 series against England, Dhoni didn't lose a single series at home – winning 21 out of 30 matches (a 70 per cent win rate). Kohli boasts of an equally impressive record. Virat has won 13 of 19 matches at home (a 68.42 per cent win rate) with only Australia defeating India at home.
Meanwhile, captain of the 1983 World Cup-winning side Kapil Dev boasts of a dreadful record at home. The team played Pakistan, West Indies, Australia and Sri Lanka in 19 Tests under him but India won just two – against Sri Lanka in 1986/87. His win percentage is a dismal 10.53 per cent.

(All data and graphs by Piyush Aggarwal and Hemang Kumar)
---
2019-05-22
184 views
0 Comments
The due diligence process is underway and Snapdeal is expected to take a call on the acquisition over the next few weeks.